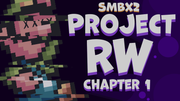 Hello, this is the first screening of the new episode of Project RW.
Main
The first episode in the "
Project RW
" universe
Story
there was an incident in the city, a strange pink gas filled everything around and our main characters have to be saved from the pink danger.
2 playable heroes
STORY
Horror
Screenshots
- - -
The episode is filled with secrets and references, you have to find out the cause of the tragedy and what is "
Project RW
"
Notes and voice recorders are scattered across all levels from which we learn the history of the world.
"
Project RW
"
There are 4 chapters planned in total
Ready:
Chapter 1 Done
Chapter 2
(40%)
Chapter 3
(40%)
Chapter 4
(0%)
Download:
"
Project RW
" Chapter 1 ENG.ver -
https://drive.google.com/file/d/11mDkSD ... sp=sharing
"
Project RW
" Chapter 1 RUS.ver -
https://drive.google.com/file/d/1kP3lpe ... sp=sharing
My YT Channel -
https://www.youtube.com/channel/UCqrTDv ... s5A/videos
First level "Project RW" Alternative universe -
viewtopic.php?f=89&t=27605&p=389721#p389721