One day, while working on my first episode, I took a look at the Mario Maker 2 semisolid sizables and thought, "You know, those would make a great tileset." So using some of their graphics, I've created just that!
This tileset does not come with any vanilla SMM2 blocks, sizables or BGOs- you'll have to get those elsewhere- but it's intended to fit in with them.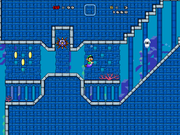 Update: Improved the look of the sloped tiles. If you want the old version, the Google Drive link has it.
Mediafire:
http://www.mediafire.com/file/6x5kj12sy ... t.zip/file
Google Drive:
https://drive.google.com/file/d/1Uw_Y2u ... sp=sharing