v1.1
Hey ! I'm DarkFluo and I'm here to talk about a project called "Super mario Bros --- The Other Kingdom", a SMB fan game with original and inventive gameplay based on parallel universes. In this post you'll have a description of the episode, an update section were I list the updates I've made to this post, an Progretion Section were I'll be wreting my progress (note that it will be very poor in information, I don't like the idea of restricting myself to a certain number of levels in one world so It'll change a lot during the progression of this episode) and a screenshot section, with screenshots of most of the levels. If you are intrested in this episode be sure to bookmark it, I'll try to update this post often. So here's some info about the game :
The name of the episode
The episode changed is name. Now the game is called "Super Mario Bros --- The Other Kingdom". Why ? I think I'll have to talk about the story now...
The Story
I'm not going to spoil a lot, but I will say that the story is about *takes best pannenkoek impression*
PARALLEL UNIVERSES
Ok, it's all from now, because the demo has some mistakes in the story I want to tell, but that will change...
The Game
SMB-TOK is a simple normal Mario Game. Every world will have a theme, wich will be the classic NSMB world, but with a twist : A desert at night, a waterless water world, a iced volcano... Each wolrd will have inventive and original level (well for the most part), a lot of bonus levels each one, each one having a unique and cool idea and a STAR level, wich is a difficult level revolving around the worlds theme and with elements of this world. The graphics used are presented in the Credit level, but I'll present here Prox's Box full of graphisms because it is 90% of my episode's graphics and it's so good I can't can't not talk about it.
The Demo
I've finished world 1 of my episode, So I made this demo for the world to try and play-test my game. I hope you'll like it ! In the .rar file there'll be a save file with everything completed except for the Star level wich is already unlocked, so if you want to play every level the game has to offer, this save is here for you. Also, the percentage shown is not accurate, since I've left unfinished the world 2 levels that I've gegan,but there not finished and unpolished, so I wouldn't recommend trying them. I'd really like to have some feedback so PLEASE if you have time consider playing it and giving me feedback in the comments or on discord. In total the demo contains :
Mario's House
Peach's Castle
Level 1-0
Level 1-1
Level 1-1 Bonus
Level 1-2
Level 1-2 Bonus
Level 1-3
Level 1-3 Bonus
Level 1-4
Level 1-5
Level 1-5 Bonus
Level 1-Star
Level 1-StarCave
Thanks for Playing
Credits
10 Stars obtainable
For a overall play time of 20min (approximatly).
What's next ?
Well I'm now going to continue working on the episode, making new levels, modifiying the story and the world map, and making the episode has enjoyable has possible, so stay tuned for that ! If you liked the demo, tell me in the comments how it was and if there's anithing to change, or any problems !
Donwload link :
https://www.mediafire.com/file/ofw0kmi8 ... O.rar/file
Bye !
ScreenShots Section
(also the starcoins and dotted diamond blocks are not in the demo they were added after...)
Progression Section
Note that this section will be incomplete and will change a lot : new levels might be added and the worlds will be re-organised and new ones will appear.
Story --- I've not made anything yet...
Intro : The Mushroom Kingdom --- "Levels" : 2/2 - Bonus Levels : 0/0 - Star level - 0/0
World 1 : Piped Plains --- Levels : 5/5 - Bonus Levels : 4/4 - Star level - 1/1
World 2 : Night Desert --- Levels : 5/5 - Bonus Levels : 2/? - Star level - 0/1
World 3 : Waterless beach --- Levels : 0/? - Bonus Levels : 0/? - Star level - 0/1
Star Road : WIP
I'd like to make at least 6 Worlds + a Star World + A Star Road.
World Theme :
Here I'll put the worlds theme that I'm SURE (except for the ones in red, they might not be in the game) I'll make, new ones might be added as time goes on.
Waterless Beach
Iced Volcano
A world that will be made by you and the people that answers questions in my SMBX project server.
GhostVillage
PoisonnedLake
Update Section
V1.1
Made pretty much everything in this post
V 1.2
Hey ! New update on the project. I've make some changes to the game, I changed this post so that the crappy first text is gone and all that's left is the V 1.1 and more of the post. First, the game now has a lot more levels ! World 2 is comming quite nicely and I've been doing a lot of stuff : Multiple levels are done, bonus levels are, I've finished World 1 completly (except for one of the bonus levels where I'll make it better), the world map now uses the nice graphics and everything is a bit better. This post will now have a "progression section" where i can write what I've done and what I want to do.
Also here's a picture of my trello board for this episode if you want to look at it :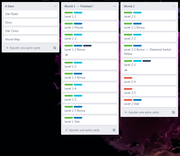 Thanks for reading all this, I really appreachiate it ! If you want to comment anything (even THAT joke) that would make me happy and I'll answer questions you might have !
V1.3
Added screenshots and more
V1.4
Hi ! I'm back with some new progress ! I upgraded the game and nearly finished the second world ! The only thing left is to add more decoration and the star level most be done too. I've also added achievements ! I'm going to use them to reward player that found obscure thing and I think I'll use them to help the player know wich star coins he got, but not until the end of the developpement. I have a demo version of that second world, but I don't want a lot of people to have it, 'cause I'm planning on releasing a better Demo when I get to half of the game, or maybe a bit before... But if you really want to try the new levels, you could always ask me to have the demo in the comments
. I'll also be on vacation the next couple of weeks, so I won't work on the episode until the end of August, but I'll be able to talk and maybe reveal thing about my episode and what I plan on doing sometimes, on te discord server I made for creator to share there progress. I don't think I'm allowed to link it here, so I won't, but mp me on discord if it intrests you. Enought of the self-promotion ! I'll be going now, so... Goodbye! Have a nice day ! Bye !
V1.5
I'm back ! vacation was nice, but I'm glad I can work again on my SMBX episode ! I'll be working hard even if I'll have less time because of homeworks and all that, but I'll make the most progress I can ! I thought a lot about what I'll do next and the ideas I want to make in this episode, so I have a lot of work to do now ! I'll be working asap ! Oh and if you find this project intresting you can let me know it in the comments and try the DEMO I made, I'm really loving this so far, but I don't have much feedback, so anything would help a lot ! Thanks for reading ! Bye !