4/25: As stated a few days ago, I am currently making my first SMBX Episode, which is titled "Blockland Patrol"!
Banner: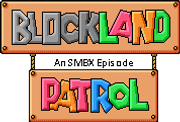 Im leaving out a progress bar until I am 100% certain that I know how far I am with working on the episode.
Ill be posting updates on the Episode in this thread, such as levels in progress, updates on the world map, new screenshots, etc.
In the meantime, heres two screenshots I took ingame.