So, after a small hiatus, I present to you my second stage to ever grace this forum. I've had this one laying around for about 2 months but I never bothered sharing it until now.... Go figure.
A quick screenshot to get an impression: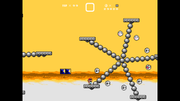 Here it is:
https://www.dropbox.com/s/ko6mrmnl2es07 ... t.zip?dl=0
Credits are uncluded in the level's folder, ''CREDITS.txt''.
Enjoy