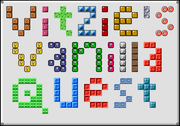 Vitzie's Vanilla Quest is an episode in Super Mario Bros. X (SMBX) with no custom graphics used apart from custom music which is the only custom content used for this episode. This episode works on TheXTech, the vanilla SMBX v1.3 made by Andrew "Redigit" Spinks, it also works on SMBX v1.4.x by 5438A38A/38A*, & SMBX2 by Codehaus; because the vanilla SMBX v1.3 only supports .mp3, .wam, .wmv, as well as .midi, and this episode has
only
.mp3 files for custom music. TheXTech and all other SMBX branches on the other hand features a MixerX audio library support which allows music and sound formats that SMBX v1.3 can't support like .ogg, .spc, & more.
NOTE: * - While you
can
technically open SMBX v1.3 levels & worlds in SMBX-38A, the gameplay physics aren't 100% the same as SMBX v1.3, SMBX2, or TheXTech & you will experience some glitches when playing this episode in SMBX-38A.
List of Worlds:
Release Trailer (Version 1.0):
Screenshots (World Map & Levels):
Download Link for Vitzie's Vanilla Quest v1.0:
https://drive.google.com/file/d/15xk6H7 ... usp=sharin
Enjoy playing Vitzie's Vanilla Quest v1.0 on SMBX v1.3/v1.3.0.1, SMBX-38A, SMBX2, or TheXTech & don't forget to do a gameplay video of my episode on 1 of these SMBX branches! Have fun!