I've recently moved all of my old 1.3 episodes over to 2.0, but just today I've encountered some graphics problems...
For example, the Card Roulette is improperly centered and doesn't animate right: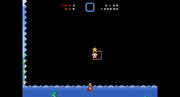 The Grey Snifits were also having some problems, but it seems to be gone now.
And this Star Exit isn't flashing:
How can I fix this? It's really starting to tick me off...
It also seems to be totally random when this happens.