1. Whenever I run the SMBX Launcher app, it doesn't load at all. Usually, I'll see the PNG resolution in the upper right corner over a blank white screen. But when I click it at all, it just crashes. I even downloaded a new, more recent SMBX2, and it did the same thing.
2. Whenever I try to load a level, my screen gets stuck at the loading level data part.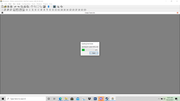 Always stuck on this part, every single time. It doesn't happen with the newer levels I've been making, just the older ones really.
I don't know what to do, I really want to enjoy SMBX2 but if I'm going to have these issues, there's no way to.