Is it possible to use the PGE Player Calibrator to "re-animate" character's animations?
I imported this modified Big Mario "Character Sheet" into the calibrator: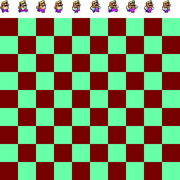 (For the record, I know the Sheet is incomplete, I simply wanted to get the running animation working before moving on to the other stuff)
I went to Edit Animations, and emptied the frames out of all animations for facing either direction. The selected Run, set to Direction Right, and then selected each frame in order meaning the run animation looked like this:
X0-Y0
X1-Y0
X2-Y0
X3-Y0
X4-Y0
X5-Y0
X6-Y0
X7-Y0
X8-Y0
X9-Y0
I saved the configuration into the level file I was working on along with the Character Sheet itself and reloaded custom assets before testing.
In the end as far as I can tell nothing changed. Mario does indeed look different, and his hitbox was changed correctly, but it still seems to be animating mario using the default animations, meaning most of his run-cycle is just Red/Green with one frame being Wario.
Do I need to be using Lua? Cause' all I'm using right now is SMBX 2.0 B4 and the .ini files from the Calibrator. Any help would be appreciated!