At last it is here
SMBX Episode Manager Version 3.0.0.0!
---
What is the SMBX Episode Manager?
The SMBX Episode Manager is a tool created in C# to aide in the process of installing and now, updating episodes. The tool is used to download, install, and manage your SMBX episodes. Formerly created in Visual Basic, the language was changed for a couple of important reasons.
All of this combined with the new UI, creates an awesome user experience.
---
What's so special about this? I can download them manually just fine
That's fine if you can download them manually. But you'll also have to
update
them manually which can become a pain. This new version of the Episode Manager introduces a new file format called the ".index". This index file is placed in the episodes directory (or zip file) and contains information related to the episode including a version number. The manager will check for updates to the episode via a server hosted by the creator. If the Manager finds any updates, the manager will download and replace on a file by file basis.
---
Sounds great! How can I get my episode to use this format?
The following post will contain a user guide on how you can set your episode up for the new format, and host the servers in case you want to update your episode (don't worry, it's not too difficult).
---
Screenshots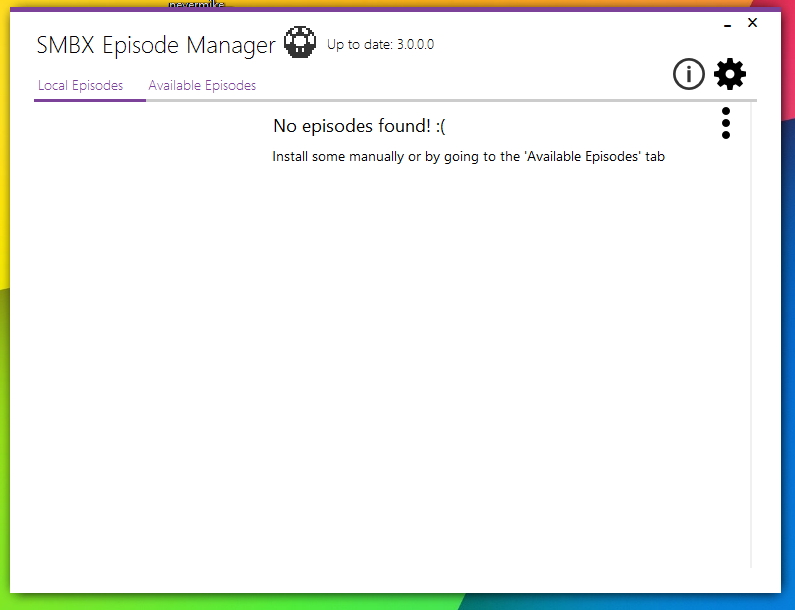 Main UI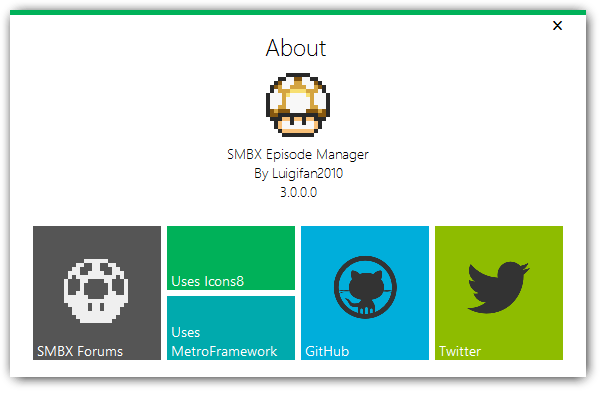 Gorgeous about box I've shown earlier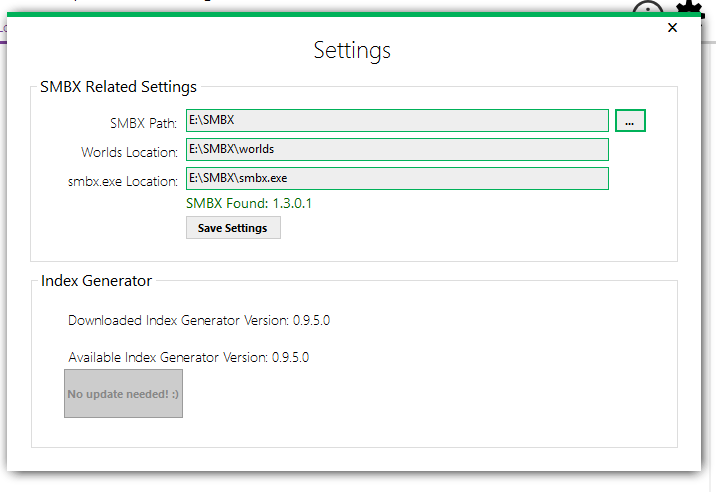 Settings, containing the updater for the Index Generator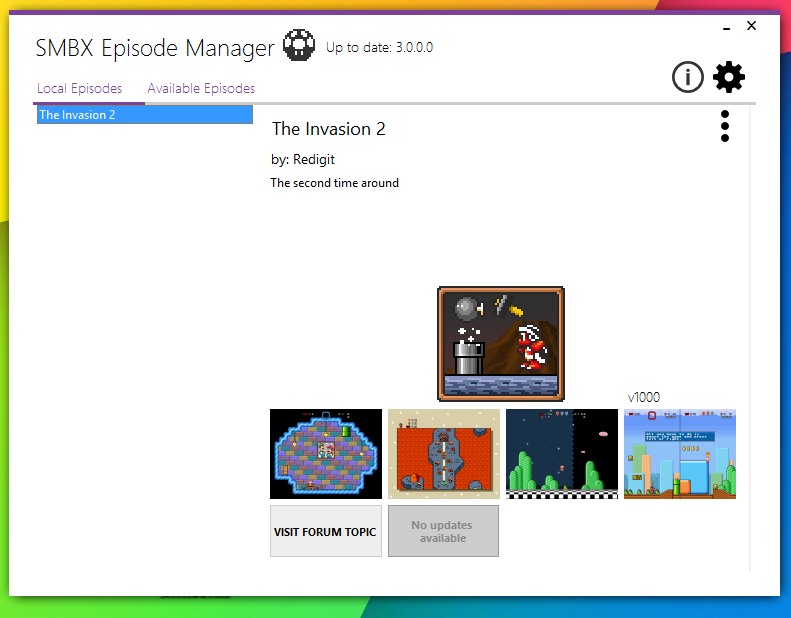 When you install/select an episode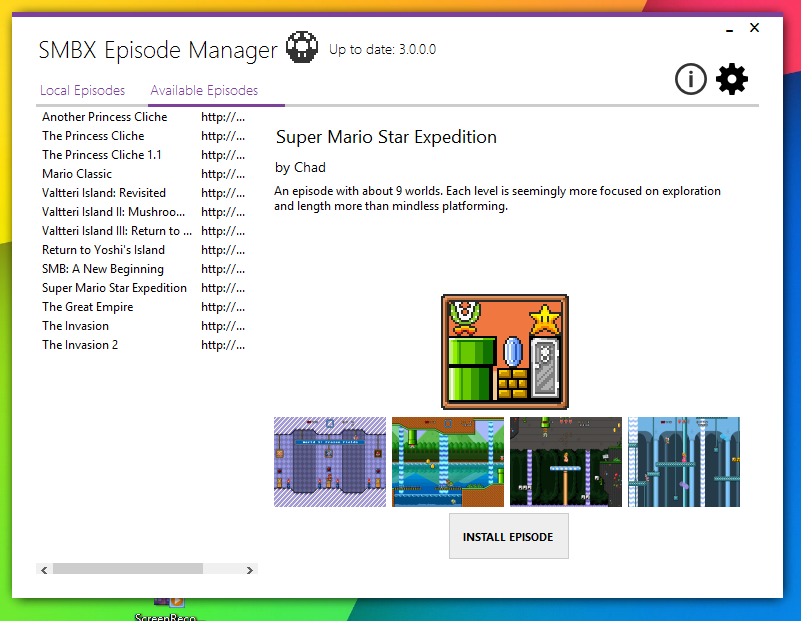 Where you can download episodes.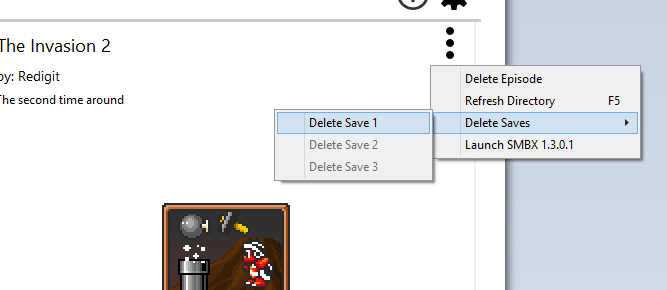 Overflow menu showcasing some episode options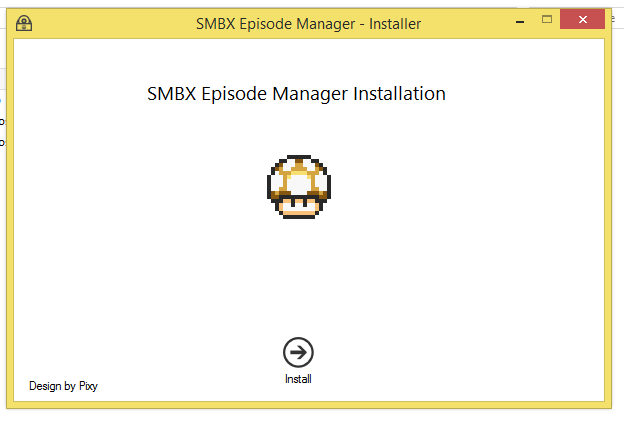 New installer
---
Downloads and Other Links
New Installer (Don't worry, it shouldn't crash
)
:
http://mrmiketheripper.x10.mx/epmanager3/Installer.exe
Index Generator
, for creating .index files:
http://mrmiketheripper.x10.mx/epmanager ... erator.exe
GitHub
:
https://github.com/Luigifan/smbx-epmanager-ver3
---
I found a bug!!!!111010101!
Please report them at the
GitHub issues page
. This way, we can keep track of what bugs have been fixed and what ones haven't been. Also, we'll be able to reference these issues in changelogs. Reporting a bug in this thread doesn't guarantee it will be fixed!
IMPORTANT WINDOWS XP SUPPORT NOTE
Windows XP works pretty much perfectly on XP SP3+. SP2 does NOT render fonts correctly and if you're getting errors about a font not having a supported style, you can try enabling clear type.