Re: MrDoubleA's NPC Pack v1.2 - Stackable NPCs, Goal Tapes, Mechakoopas and more!
Posted: Mon May 25, 2020 1:30 pm
TheGameyFireBro105

wrote:

↑

Sun May 24, 2020 11:50 am

I'd love to see boss bass, porcupuffers and cheep chomps. You could call it The BIG Fish Update
There is a "rough draft" of the Porcupuffer. It behaves more like a Bully or Flurry on water though. I found it on the forums
here
.
I'd rather see an implementation of them that is chained to the screen like the Angry Sun, although in SMW you actually could out run them off the screen with enough cape speed. Although this pack is amazing and you are already a hero for adding this content to the game, a Boss Bass or true Porcupuffer would be icing on the cake.
I did get this error when using Exclamation Blocks though.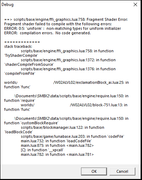 Any ideas?